▶︎ Official Selection: Narrow Way Film Festival (2015)
FILM OVERVIEW: According to US Census data, approximately 100 million single adults now live in the United States, representing 45% all US households. Single Creek is a documentary film about real single adults with real issues at all stages of life. How does a family-centric church treat those who are unmarried, divorced or widowed? Single Creek urges church leaders and married couples to consider new ways to connect with this growing demographic while challenging singles themselves to live full lives through their faith and talents. More than 20 interviews include voices from the never-married, divorced and widowed. Also included are insights from well-known authors and speakers, such as Dennis Franck, Wendy Widder and Terry Hershey, on the subject of singleness and the church.
RUN TIME: 49 minutes
ORIGINAL RELEASE: December, 2010
RE-RELEASED: July, 2022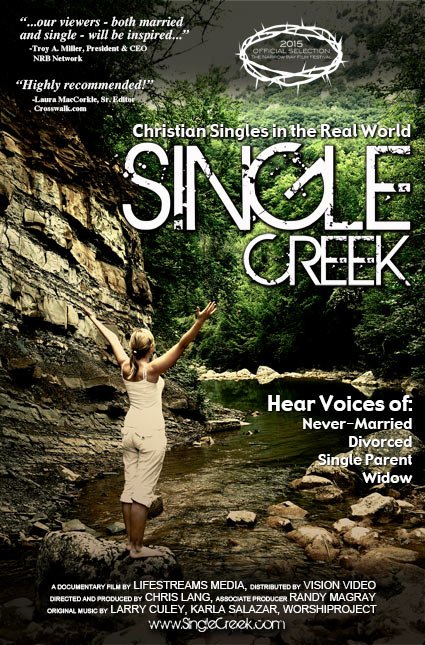 Single Creek is most certainly worth navigating…Singles will be encouraged that they are not alone in their life journeys, while those who are married will be enlightened…Highly Recommended!
This compelling presentation quickly draws the viewer into the conflicting emotions that singles confront on a daily basis…
Single Creek gives a voice to Christian singles who are often a forgotten segment in our family-focused churches…