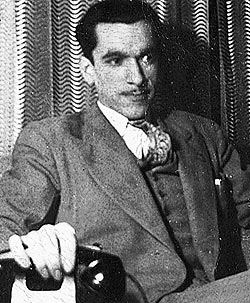 Charmed by Darkness is a 3-part project about the life of Roger Morneau, a former demon worshiper who became a Christian author and prayer warrior. First, a book release includes the full manuscript from Roger's book A Trip into the Supernatural and never-before-seen pictures and documents.  Next, a documentary film will feature interviews with Roger's family and friends, highlighting his conversion story and prayer ministry (Projected Release: Fall, 2018).  See the companion program Beware of Angels on Amazon (Free with Prime).   Last, a final draft of the screenplay for a period feature film is complete (adapted from the book) – pending funding.
OVERVIEW: As a young boy, Roger displays an uncommon hunger for spiritual truth and can't harmonize the teachings of his church with the Bible. Eventually, he comes to believe that God is a tyrant and walks away from religion completely. Years later, he's invited into a secret society of spirit worship. He learns that he was chosen by "the master" and receives special powers. And although charmed by spirits and mentors, he never feels peace or joy. His parents had warned him about playing with evil. One night, he can't sleep and cries out: "If there's a God in heaven who cares for me, help me!" No one had ever gotten out of the society alive…
Roger's story testifies that demons are real, and their work is based on deception. Thankfully, we can take courage in the superior power of Jesus Christ who promises: "He who follows Me will not walk in darkness…and you will know the truth and the truth will set you free" (John 8:12, 32).
Roger's deliverance comes through an unlikely friendship. A man named Cyril happens to be working next to him in a factory. He learns that Cyril is a Christian that keeps the Bible Sabbath; so he begins studying with Cyril and his wife Cynthia every night at their apartment. But, they don't know Roger had been worshiping demons. Roger figures the spirits will kill him during the night; so he won't be alive for the next Bible study anyway. But, as each new day dawns, Roger finds himself gaining hope and courage that maybe God really does care and is protecting him! Cyril and Cynthia are eye witnesses to the spiritual battles that follow.
FURTHER STUDY: Through his Bible studies with Cyril and Cynthia, Roger met a God of love and a rational teaching about Death, Heaven and Hell.