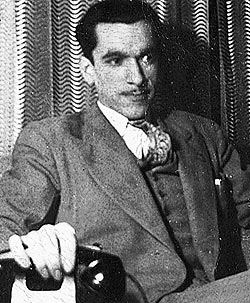 Charmed by Darkness is a 3-part project includes a book, a docudrama and a biopic about the life of Roger Morneau, a demon worshiper who became a Christian author and prayer warrior.  The docudrama features gripping reenactments, flashbacks to World War II and Roger's childhood home and never-before-seen pictures and documents.  The film also explores Roger's worldwide prayer ministry that included over 25,000 names.  Interviews with Roger's family and friends testify that the battle with fallen angels is real, that the Bible is true and that prayer really can change things (Projected Release: January 2020).  See the companion program Beware of Angels on Amazon (Free with Prime).   The screenplay for the biopic is complete (production pending funding).
OVERVIEW: As a young boy, Roger displays an uncommon hunger for spiritual truth and can't harmonize the teachings of his church with the Bible. Eventually, he comes to believe that God is a tyrant and walks away from religion completely. Years later, he's invited into a secret society of spirit worship. He learns that he was chosen by "the master" and receives special powers. And although charmed by spirits and mentors, he never feels peace or joy. His parents had warned him about playing with evil. One night, he can't sleep and cries out: "If there's a God in heaven who cares for me, help me!" No one had ever gotten out of the society alive…
Roger's deliverance comes through an unlikely friendship with a couple (Cyril and Cynthia Grossé) who risk their lives to help him.  Cyril and Cynthia and others testify to the reality of a great unseen conflict over the minds of men.
FURTHER STUDY: Through his Bible studies with Cyril and Cynthia, Roger met a God of love and a rational teaching about Death, Heaven and Hell.